This is the first of a regular series of book reviews. We'll only review books we have read, and we'll call them the way we see them. This time we look at five books, ranging from XSLT to the world of Dream. Updated to add a sixth on time management.
In this review:
This web site's more modern bits are generated using articles written in XML, and converted to HTML using XSLT. I've used a number of XSLT books, and most of them are pretty good. I'll review them here in due time. This one is my favorite. It's short, and I like that: I like a book I can read in the tub without fear of being forced under by the weight. Better yet, XSLT Quickly is organized in a way that makes it useful to me. It's much more "How to" than reference manual. If you're thinking about using XML and XSLT, think again. But that's another topic. If you are starting to use XSLT, this is one book that you'll want to have.
This book is subtitled "Patterns for Radical Leadership" and Olson and Stimmel really mean it. The challenge they lay down to managers reading this book is this: "What if -- instead of a programmer pool -- there were a manager pool, from which self-selected software developers chose the leader for their project? Would you be chosen? Do you have what it takes to lead developers to produce more creatively and proficiently?" The Manager Pool is written in a pattern style, with evocative pattern names, linked together to show connections and relationships. A manager who reads these ideas with an open mind will find much to think about. The good news is that if you read this book, you're probably already well on your way to being one of those managers who would be selected by programmers from the manager pool. My fear is that the managers who most need the book will never get through it. Still, it's worth a try: get a copy, read it, then give copies to folks who need it.
This one is subtitled "What Every Business Must Do to Dominate the Decade". In The Agenda, Hammer describes a set of emerging business principles that describe how today's best companies are finding new ways to prosper. It's an interesting combination of ideas. Some of them are very collaborative and people-oriented; some seem very process-focused and almost harsh. I'm not sure all the ideas are for me, but I am sure that Hammer will be heard, and that his ideas will gain currency. Chapter titles include: Give Your Customers What They Really Want, Put Processes First, Create Order Where Chaos Reigns, Measure Like You Mean it, Manage Without Structure, and Prepare for a Future You Cannot Predict.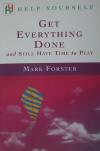 The subtitle here is "and Still Have Time to Play". If you're like me, you have too much to do and get too little done. (If you're too much like me, you're a lazy slug, but that's a topic for another day.) Mark Forster tells us that he too used to have trouble getting things done, but of course all these authors do. What I like about this book is that it's a bit different. Forster explains why some of the other famous methods don't work. Remember that one about "process each piece of paper only once"? Who can do that? Certainly not me. I don't even know where to put the darn thing. Forster describes why these approaches don't work for us and then helps put them in context. The idea I like best: when you've got a task before you that is daunting, make a checklist of things that make up that task. First item too daunting? Break it down some more. Kind of reminds me of writing User Stories. Sooner or later you reach one where you say "oh, I could do that", and you're off.
My friend Pete has written a very interesting and challenging book. Pete's thesis is that the best way to create great programs is with great programmers. Pete suggests that for a wide range of projects, teams formed of master programmers, journeyman programmers, and apprentices can produce better programmers, and better software, than conventional software engineering approaches. He describes what kind of projects can use the craftsmanship approach, and what kind need engineering approaches. Highly recommended.
If you're not familiar with Neil Gaiman's comic series, well, you should be: click here. If you do know the series and wish it wasn't over, try this book. It's a series of short stories by some well-known (and not so well known) authors, including Barbara Hambly, George Alec Effinger, Tad Williams, Gene Wolfe, and Steven Brust. Each of the stories illuminates a different part of the world of Dream. I'm not usually a fan of short stories but I enjoyed every one of these. It's a good visit with Morpheus, Death, Desire, Delirium, and even Cain and Abel.
This is a science fiction detective novel. The detective, Albert Morris, needs to unravel a complex mystery involving a long-standing enemy, a large corporation, a missing scientist, a beautiful daughter, and several deaths: his own. Fortunately, the deaths are those of Morris's "dittos", duplicates made of clay, imprinted with his mind and personality. Dittos live for a day, then return home to upload their memories into the mind of the one who made them.
Brin is a top science fiction writer, as well as the author of The Transparent Society, a serious study of privacy in our high-tech society. Kiln People is a good read. Check it out.